Contact Us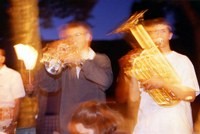 Since the founding of the Emmanuel Community in the 1970s, its members have regularly gathered to pray, praise and celebrate the Lord with joy and to live the charisms of the Community - Adoration, Compassion and Evangelization- in accordance with the teachings of the Catholic Church.
Seeking songs to express the joy of faith, at first the Community drew on the repertory of music from the American Charismatic Renewal and form that of Father Andre Gouzes.Very rapidly, however, several members felt a call to compose original songs that specifically touched on the Community's charisms. Thus, the famous 'green book' entitled 'He Is Alive' was born. Today, 'He Is Alive' has been translated into multiple languages and its music is used in dioceses around the world (particularly in France). A team of lay people, priests, and consecrated brothers and sisters is entrusted with collecting, translating and adaptating the music for use in a variety of liturgical settings and for other occasions of prayer and worship.
The team also organizes musical training sessions for both the members of the Emmanuel Community, and for all those involved in liturgical animation. The team oversees the musical and liturgical animation of all the missions of the Emmanuel Community, including the Summer Sessions in Paray Le Monial, the International Congresses of Evangelization, and various international Youth Forums, etc.
If you would like more information about specific Emmanuel Community musical compositions, events, or training sessions, please contact us.
Contact us: chantemma@emmanuel.info