The Emmanuel Community
The Emmanuel Community is an international Catholic charismatic community founded in France in 1972, by Martine Lafitte-Catta and the Servant of God Pierre Goursat (1914-1991). Its members strive to respond to the call of God : to serve and to proclaim Christ in the contemporary world.The Community has 8000 members in more than 70 countries.
The Emmanuel Community includes all the states of life:
- lay people, both married and single,
- consecrated men and women,
- and diocesan clergy.
The daily life of Community members centers on Adoration, Compassion and Evangelisation:Eucharistic Adoration transforms our hearts, leading us to share in the Compassion of the Heart of Jesus for all the world, and thus making a commitment to Evangelization as an expression of our Baptism.
The experience of the Outpouring of the Holy Spirit common to all members of the Community strengthens us in the graces of Baptism and Confirmation. Convinced that He who is Emmanuel, God-with-us, accompanies us, we strive for holiness in everyday life.
The Emmanuel Community was first granted recognition by the Holy See in 1992, as a Private Association of the Faithful of Pontifical Right.
On July 20, 2009, the Community was recognized by the Holy See as an International Public Association of the Faithful of the Catholic Church.
With the agreement of Cardinal Andre Vingt-Trois, Archbishop of Paris, the cause for the canonization of Pierre Goursat, founder of the Emmanuel Community and the Fraternity of Jesus, was officially introduced on January 7, 2010.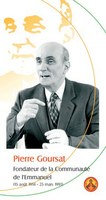 For more information on the Community or on the process of beatification of the Servant of God Pierre Goursat, please visit : http://en.emmanuel.info