He is alive Songbook 2010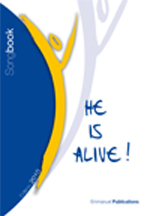 The He Is Alive Songbook 2010 is now available!
The He Is Alive Songbook 2010 has been compiled by the Emmanuel Community for use by its members and for the service of the Church across the English-speaking world.
In it you will find songs - some well-known, others new - all fully revised and corrected, for a wide variety of liturgical occasions, reproduced with the scores and guitar chords.
'Prayers provides a short selection of popular prayers, included immediately after the initial indices.
'Praise contains songs for daily praise, prayer meetings and street evangelisation, many of which can also be used for Mass.
'Evangelisation contains songs particularly suited to evenings of evangelisation, parish missions and other similar events.
'Hope and trust is intended for the many situationsin which the goal of public or private prayer is to express these virtues or to ask the Lord for their increase.
'Taize brings into one section some popular chants composed by the Taize community.
'Holy Spirit includes songs for liturgy and for other occasions in which we call on the Holy Spirit in prayer.
'Mary provides hymns and songs for prayer with and to our Blessed Mother.
'Songs for liturgy includes: songs particularly suited to large or solemn liturgical celebrations; a large selection of psalm antiphons composed by the Emmanuel Community; a guide to assist in leading the prayers of the Liturgy of the Hours; a Holy Week section with songs, antiphons and other liturgical music including a setting of the Passion According to St. John for Good Friday.
'Eucharist provides songs suitable for Holy Communion.
'Masses provides a selection of Mass settings in English and in Latin.
The He Is Alive Songbook 2010 can be purchased online at: www.librairie-emmanuel.fr
For bulk orders, please contact : aVM – BP 49 – 71600 Paray le Monial Cedex - France